>MECHANISM OF SPIN-BIO TOILET
By pressing the switch after each use, the Bio-Chips and sewage are automatically stirred in the tank, and sewage is completely decomposed into water (H2O) and carbon dioxide (CO2) within 24 hours. There is no need for drainage or waste pump out. This is the biodegradable solution for waste treatment for the future.
>CAPACITY OF SPIN-BIO TOILET
(Non-flush toilet use)
No. of people per day - Max. of 10 people per day
No. of usage per day - Max. of 30 times per day
Capacity - Max. of 10.5 liter per day
·REPLACEMENT OF BIO-CHIPS
The Bio-Chips are not required to be changed, just add a little amount about once for six months to maintain the efficiency.
*Note: The service life of Bio-Chip is subject to change with the usage condition and circumstance.
*Note: Additional cost for the Bio-Chips and maintenance fee will apply.
>BIO-CHIPS AND SEWAGE AMOUNT
Since sewage is completely decomposed, the amount of Bio-chips and sewage will remain constant in the Bio Tank.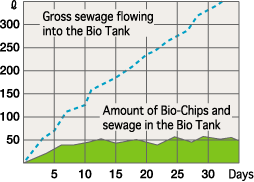 >SPECIFICATIONS OF TOILET CABIN
| | |
| --- | --- |
| Dimensions of Whole Unit | W870 X D1780 X H2556 |
| Dimensions of Toilet Cabin | W870 X D1260 X H2180 |
| Dimensions of Bio Tank | W870 X D1780 X H375 |
| Side panel and Back wall | High molecular polyethylene |
| Roof | High molecular polyethylene |
| Door panel | High molecular polyethylene |
| Floor | High molecular polyethylene |
| Toilet bowl | High molecular polyethylene or ceramic |
| Production Method | Blow molding |
>SPECIFICATIONS OF SPIN-BIO TANK
| | |
| --- | --- |
| Material of chamber (inside) | Stainless steel |
| Bio Tank | FRP or High molecular polyethylene |
| Capacity of Tank | 140 liter |
| Amount of Bio-Chips | 2.5 - 3 Bags per Tank |
| Optimum temperature of Bio-Chip | 30C - 45C |
| Water saturation ratio of Bio-chip | 80% - 90% |
| Bio mixing motor | Single phase 100V/90W |
| Bio disposer and mixing wing | Stainless steel |
| Heater | Single phase 100V/500W |
| Bio-Chip | Fine porous wood chip |